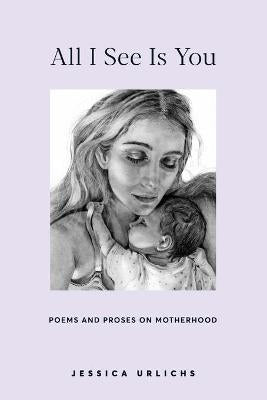 Jessica Urlichs
All I See Is You : Poetry & Proses for a Mothers Heart
"Oh, how the days are long it's true
Yesterdays are many
But todays are a few
So I'll fill them up
With all of you
And simply be,
Here,
With You."

'All I See Is You', captures the heartfelt and honest moments of early motherhood.

Jessica's words encompass the highs and the lows, the raw and the vulnerable and everything in between. It's the kind of book you want on your bedside sitting next to the bottles or breast pump.

This book of 60 poems and proses will take mothers on a journey of healing and growth with a powerful affirmation that you are not alone. A popular gift around the world for expectant mother's, new mother's and mothers with grown children. There are words in here for everyone.

"Jessica found a way to put into words the very soul of motherhood'.

"This writer writes as though she's taken the words out of every mother's head... the feelings that most mothers will experience but can't always express. So relatable, so beautiful, sometimes funny and often emotional, I challenge you not to get teary eyed!"

"Thank you for your poems, your writing makes me feel human again".



Jessica's poetry books have sold tens of thousands around the world. 'All I See Is You', is Jessica's second in her collection of poetry, with 'From One Mom to a Mother' being first, and 'My After All', her final in the early motherhood series.

Jessica is also a best selling author of 'The Rainbow In My Heart', a picture book on emotions.
---
Share this Product
---
More from this collection